Bienvenidos a arts & metrics! Gracias por visitar esta web. Me llamo Elena Villaespesa y he creado esta web para publicar mi trabajo de investigación y generar debate en este espacio sobre estudios de público y evaluación en el sector cultural, especialmente con lo relacionado con el mundo digital.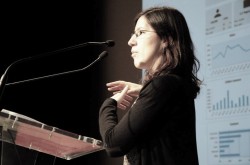 Bio
Elena Villaespesa trabaja como Analista Digital en el Metropolitan Museum of Art en Nueva York donde coordina el programa de análisis de datos del museo para evaluar las iniciativas digitales. En su trabajo en el museo lleva a cabo estudios de público y evaluación de la web, redes sociales, móviles e interactivos. En Septiembre comenzará a trabajar como Assistant Professor en Pratt Institute en el Máster de Museos y Cultura Digital.  Su carrera profesional abarca una experiencia internacional en diversos museos incluyendo también Tate en el Reino Unido y el Museo Thyssen-Bornemisza en España, donde ha trabajado como Productora Digital y Analista de Datos.
Elena realizó el Máster en Gestión Cultural de la Universidad Carlos III (Madrid) y recientemente ha finalizado su doctorado en la School of Museum Studies de la Universidad de Leicester, Reino Unido. Su tesis define un marco de evaluación para medir el impacto de las redes sociales en los museos. Tate es el principal estudio de caso en su investigación y como parte de esta colaboración se convirtió en Tate Honorary Research Fellow 2015-17. Como parte de su investigación, trabajó además en el proyecto "Let's Get Real" iniciado por Culture 24.
Mi CV completo en LinkedIn 
Twitter: @artsmetrics
Email: evillaes@pratt.edu